Welcome everyone to the fourth content patch of Season 5! This patch focuses on Leagues S2 ending, implementing player suggestions, agility changes, bug fixes, new quest and some quality of life changes.
Many of you have waited a long time for an update on what's happening in the background of GamesLabs network and we are ready to tell you, that we are actively working on a major upgrade to our game systems (mainly making already efficient minigames and expansion of the network a lot more efficient), bringing back bedrock support, working on few future big updates of Minescape and other games on the network.
Minescape is one of our flagship project and will always be. We've been slowing down our updates a bit on Minescape due to different reasons, mainly being the size of our team that has drastically been reduced. Though, as always, we are finding ways to expand the network itself. One of the plans we've had for years is slowly being implemented. It's something that's really interesting on both a technical and gameplay level. We always try to push the limits/boundaries of Minecraft and the project we're working on will, once again, do that. This project will be used for most of our new incomings games: minigames, player made games, and tournaments (e.g. our cod zombies will most likely be running on it, our current minigames, Castle Wars, and a new "game" we have yet to tease that kinda changes the way you see a game, at least that's our vision for it...)
- Scipio3000, taken from GamesLabs Network Discord
And now it's time to announce the network updates!
Minescape leagues
Leagues s1
After a lot of delay, extra work on small details we are finally ready to give out the Minescape leagues s1 rewards! To receive the rewards applicable to you - simply log into the server and the rewards will be on the way to you (this process might take maximum of 4 days after the update is released).
NOTE: If you have placed 1-3 and want to claim your custom cosmetic, please open up a support ticket in our discord server.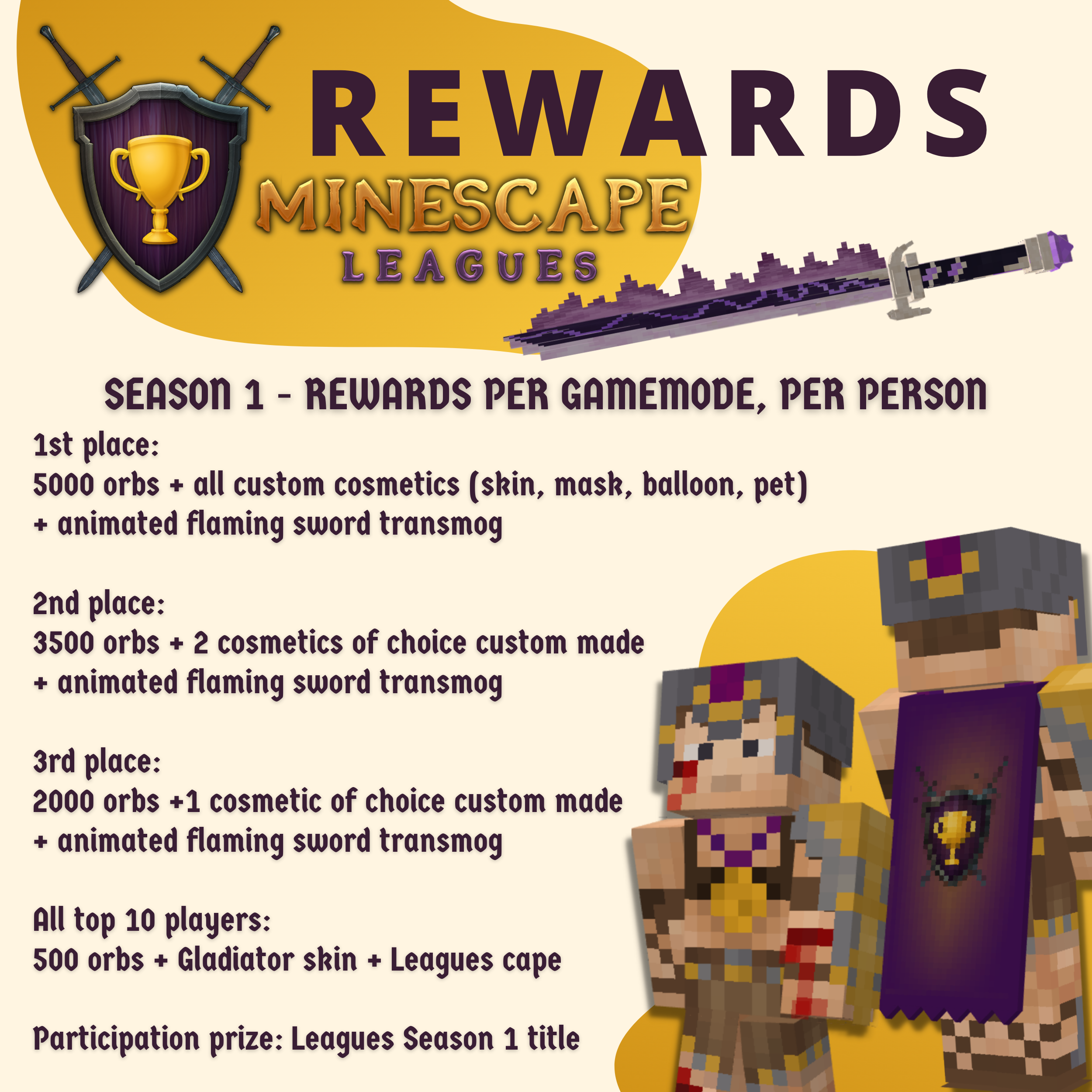 Leagues s2 finale
After a long fight between players, Minescape leagues season 2 is coming to an end, but it is not over yet! For the last 2 weeks of MS Leagues s2 we are bringing a further boost to various parts of the game to bring players in a final competitive fight for the top places. This update should also encourage players that are yet to experience Leagues to try the game out before the season is locked.
Monster drop rates have been increased from x3 to x6
Clue scroll loot rates have been increased from x5 to x10
Slayer point boost has been increased from x2 to x3
Beginner tier experience boost has been increased from x8 to x10
Medium tier experience boost has been increased from x10 to x12
Elite tier experience boost has been increased from x12 to x15
Master tier experience boost has been increased from x15 to x20
Boss slayer shop
Sumona has been very thankful to all the brave players that are helping her with defeating various bosses around the world of Minescape, but she was never able to offer anything in return. That has been changed and now she is able to offer you some unique rewards in exchange for boss slayer points:
Dragontooth Necklace - An upgrade to the upgraded bonecrusher necklace which gives +1 prayer point per buried bone
Upgraded Rune Pouch - An upgrade to the Rune Pouch, giving it extra 3 slots
Upgraded Slayer Helm - An upgrade to the Slayer Helmet, making it a full hybrid piece, giving it +15% buff to all combat styles whilst fighting monsters on a (boss) slayer task
Imbued Dagganoth Rings - Imbued versions of the rings obtained from the Dagganoth Kings giving extra combat buffs
Holy Sandals - A hybrid pair of boots matching the buffs of mitres
X marks the spot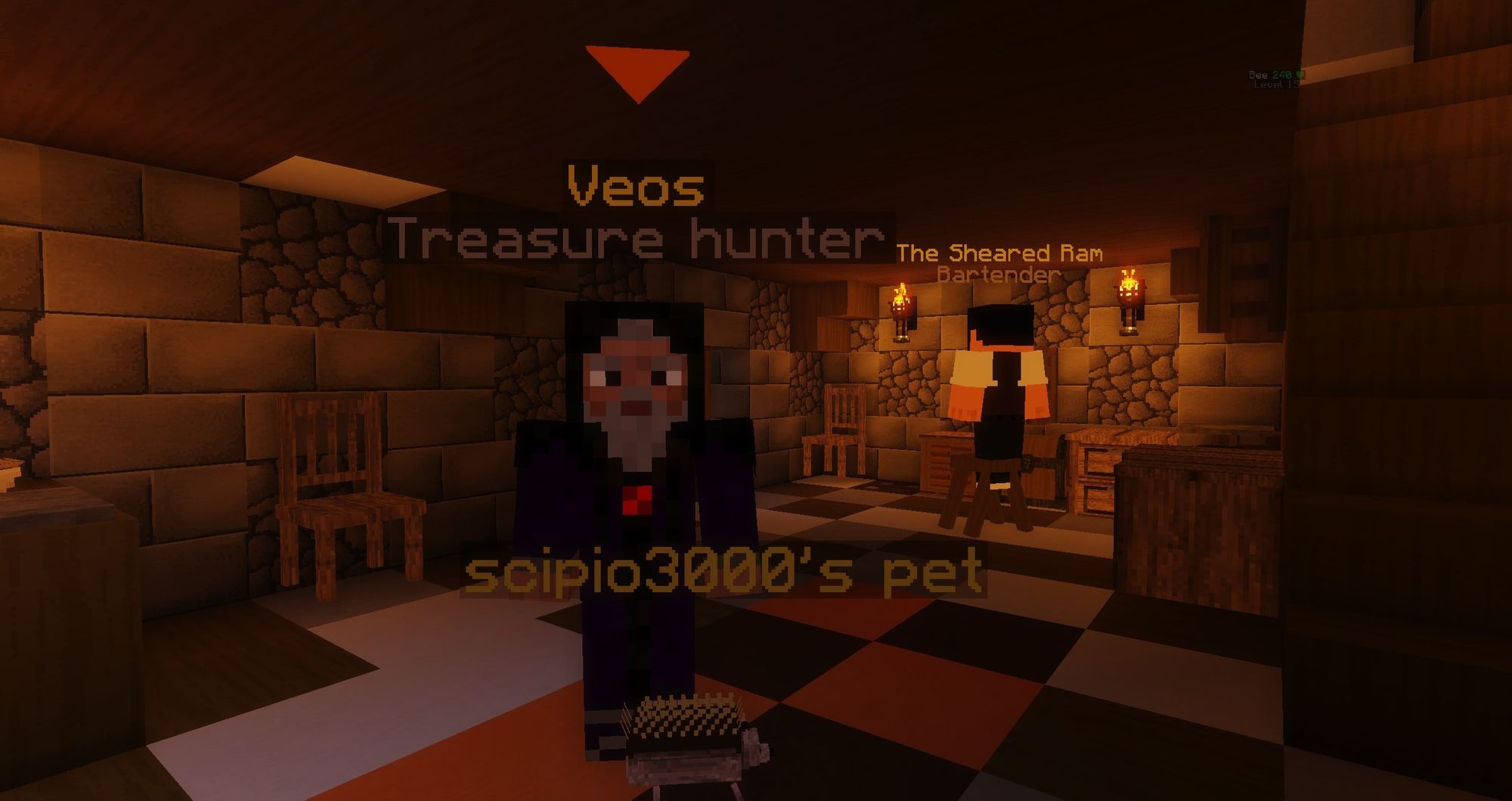 A new quest has been added to the world of Minescape - X marks the spot. This is a beginner tier quest that will reward players with 1 quest point, 200 coins and a beginner clue casket.
Agility changes
We've reviewed some of the current agility courses available in Minescape and noticed a couple of things that were due to change:
Draynor rooftop agility course Changes:
A stair was changed to a slab after the first checkpoint to allow for a smoother jump
The course will now give 600xp upon completion instead of 400xp
Wilderness Course Changes:
An Iron Block was added to the start of the course
A Gold Block was added at the end of the course
A fourth stair was added around the Gold Block at the end of the course.
The course will now give 950xp upon completion instead of 800xp
Falador Course Changes:
A block and slab were removed. If the player fails this jump and falls into the water they will be teleported back to where they jumped from.
Changes to other courses:
Ice caves agility course will now give 1050xp upon completion instead of 850xp
Lumbridge (Hard) agility course will now give 550xp upon completion instead of 350xp
Varrock park agility course will now give 200xp upon completion instead of 100xp
The button at the end of the Agility Pyramid course has been changed to a stone button for more visibility
Gameplay quality changes and bugfixes:
We've worked on implementing some of the player suggestions, fixing bugs and adding other QoL changes.
Easy clue scrolls will now match beginner clue scroll step amounts (1 step min to 3 steps max.)
Exploration beacons are now grouped in the in-game exploration wiki
Raw and Cooked Rabbit variants were added to the game. The raw version is dropped from Rabbits and cooking it will reward players with 6 cooking xp
Dragon arrows can now be alchemised for 270 rather than the old price of 30 gp. The price has been changed to fit with the rest of the arrows.
You may now click on clue scrolls inside the in-game exploration wiki to see a list of items you can obtain from that specific tier of clue scroll casket
You may now see your active job in the TAB display
Blood runes were added to Elite Clue Caskets
Wrath runes were added to Master Clue Caskets
League tier icons will now show up as green after completing all of the tasks in that specific tier
You may now add keys (e.g. brass key) to the toolbox (/toolbox)
Fred the Farmer will now give shears to players during the sheep shearer quest
Halloween lobby map has been haunted by Halloween spirits for the past few weeks, but the holidays spirits managed to deal with them and so the map has been updated accordingly
/discord command and in-game tip for discord will now display the correct invitation link
Staff applications
GamesLabs is actively accepting Staff Applications! We are looking for players that are passionate about contributing to the GamesLabs Network, Minescape, and other exciting projects. We are specifically looking for players to assist on the following teams:
Assets Team: Assets team is responsible for creating models using Blockbench. Models range from items, cosmetics, monsters, and more. Previous experience with Blockbench is helpful and preferred.
Build Team: Build team is responsible for bringing the Network to life! Builds include Minescape Points of Interest, Minigames, Network Lobby, Convention Booths, etc. Previous build experience is helpful and preferred.
Development Team: Development team is responsible for creating all the features and mechanics of Minescape and the network in general. Previous development experience is preferred. Java knowledge is mandatory.
If you are interested in joining our team, please apply on our website at the following link: https://www.gameslabs.net/apply/
We look forward to reviewing your applications!
The end
That's all for our fourth content patch of Season 5.
Make sure to join our Discord if you haven't already!